Nintendo Slashes Wii U Price by $50
Posted on Aug 28, 2013 | Source: Hero Complex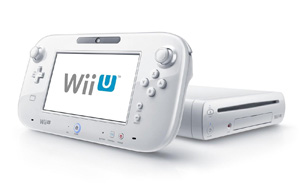 Nintendo is hoping a cheaper price and well-known video game characters such as Mario and Zelda will convince shoppers to buy a Wii U this holiday season. The slow-selling system will receive a $50 price cut effective Sept. 20, a discount that comes about two months before the release of new consoles from Microsoft and Sony.
What is now known as the "deluxe" edition of the Wii U will soon retail for $299.99, down from its current $349.99. Since its release last holiday season, the deluxe edition of the Wii U has come packaged with a copy of the game "Nintendo Land" as well as a relatively robust 32 gigabytes of storage.
Both will be included at the reduced price of $299.99.
A more bare-bones version of the Wii U, one without the copy of "Nintendo Land" and just 8 gigabytes of storage, has been reported by other news outlets to be discontinued, but a Nintendo spokeswoman said in an emailed response that the company has "nothing to announce" on the 8-gigabyte edition.
Source: Hero Complex